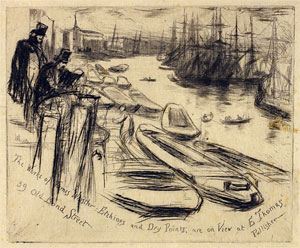 The Little Pool
1861
Etching and drypoint on Asian paper.
K.74 (7/8).
Transferred from Glasgow University Library, 1972 .
Hunterian Art Gallery, GLAHA 46757.
Whistler drew this view of the Thames from Rotherhithe in March 1861. Drypoint lines reinforce the figures and shipping. His companions were Serjeant-at-law Ralph Thomas and his son Ralph, who wrote the first catalogue of Whistler's etchings. Following Coast Survey practice, Whistler etched the plate in a deep bath of acid. It was printed in a room above Thomas's shop, 39 Old Bond Street, and used to advertise their exhibition of Whistler's etchings.