Copyright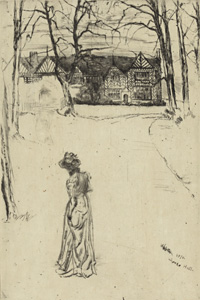 Speke Hall: The Avenue
, 1870/1878,
Library of Congress,
FP-XIX-W576, no. 96
© Whistler Etchings Project, University of Glasgow (2012). This catalogue and its underlying database are protected by UK, European and international copyright laws. The authors assert their moral rights in relation to this work.
The images in this online catalogue have kindly been provided or licensed by the respective institutions with the understanding that they will not be further copied. You may download images for private study and for educational purposes in schools and universities, except where it is stated otherwise. You may not use the images provided in the catalogue for other purposes, in particular not as reproductions for commercial purposes. If you would like to use the images, please contact the rights and reproduction department at the holding institution.
Citing the Catalogue:
Margaret F. MacDonald, Grischka Petri, Meg Hausberg, and Joanna Meacock, James McNeill Whistler: The Etchings, a catalogue raisonné, University of Glasgow, 2012, on-line website at http://etchings.arts.gla.ac.uk.
The catalogue numbers should be referred to for short as G.