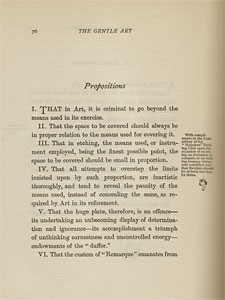 J. McN. Whistler, The Gentle Art of Making Enemies, London, pp. 76-7.
1892
Glasgow University Library, Special Collections
The Gentle Art of Making Enemies contained Whistler's witty correspondence and manifestos, punctuated with perky butterflies. It includes this 'Proposition', originally published in 1886 with the 'Second Venice Set', which comments provocatively on the size and presentation of prints: Whistler wrote that 'in etching, the … instrument employed being the finest possible point, the space to be covered should be small in proportion … the huge plate, therefore, is an offence'.