Sets and Series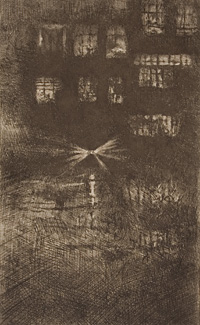 The Dance House: Nocturne
, 1889,
Hunterian Art Gallery,
HAG 46997
Whistler produced several groups or series and sets of etchings. The sets were published by print dealers and publishers: the 'French Set' was published in 1858, 'Thames Set' (1871), 'First Venice Set' (1880) and 'Second Venice Set' (1886). In addition a 'Cancelled Set' was published at the time of Whistler's bankruptcy in 1878.
The unpublished sets or series include the 'Brussels Set', 'Houndsditch' or 'East London Set', and the 'Jubilee' or 'Naval Review Set', all etched in 1887. Finally he produced an 'Amsterdam Set' in 1889, printed and sold in 1890.